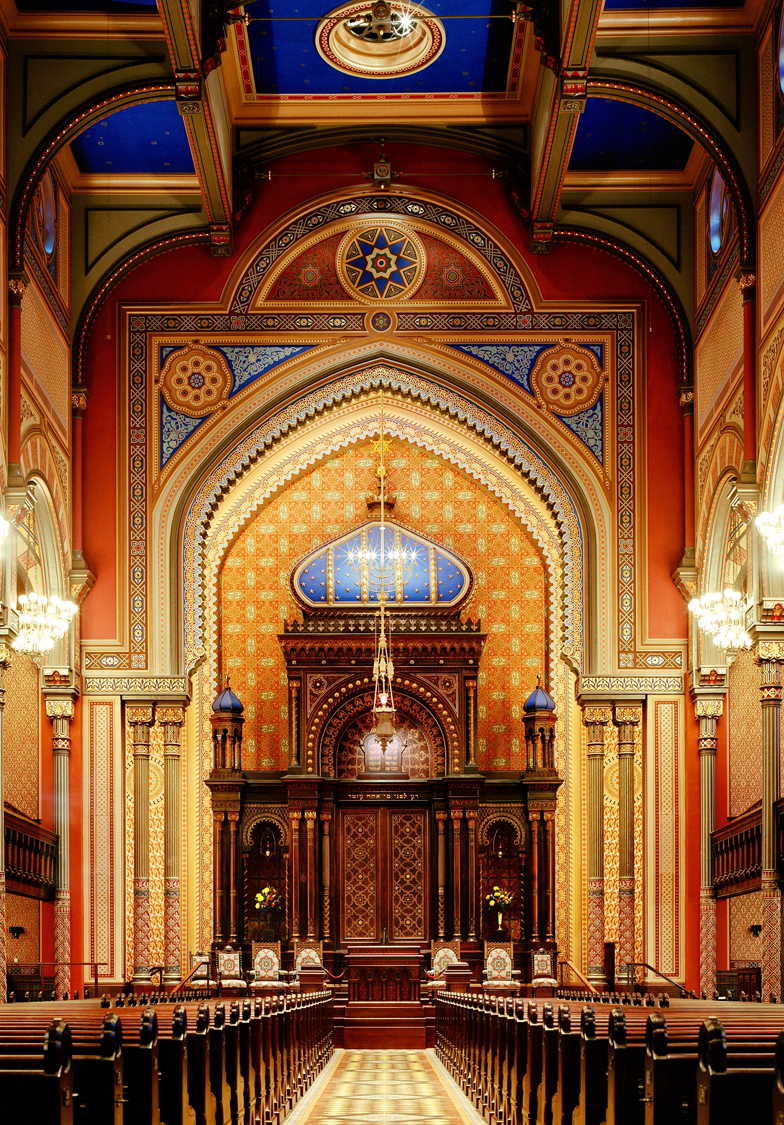 PROJECT: Central Synagogue
LOCATION: New York, New York
CLIENT: Central Synagogue
COMPLETION: 2001
SIZE: 25,000 Square Feet
COST: $40 Million
Constructed in 1872, Central Synagogue is the oldest building in continuous use as a synagogue in New York. Remarkable for its Moorish design and ornate interior, it is both a New York City Landmark and a National Historic Landmark.
In 1998, the Synagogue was severely damaged by fire. Our team worked closely with the congregation to perform a comprehensive renovation to restore and preserve the building's historic character and allow the building to better serve contemporary needs.
Among the most significant aspects of the restoration was the repainting of the geometrical, multi-colored stencil patterns and cleaning and restoration of the sanctuary's clerestory windows, rose window, stained-glass laylights, and its 12 double-story stained-glass windows.
A section of moveable pews, fabricated in a style evocative of the original's detailed millwork, allows flexible styles of services and brings the congregants closer to the clergy, a request from Rabbi Peter Rubenstein.
In a new lower level, a multi-purpose space accommodates a variety of public functions and provides an elegant event rental space.
On the exterior, ornamental details missing for decades were re-created. We brought back the black-and-red slate geometric pattern to the gabled roof and accented the crenelations around the twin minaret towers with gold leaf. The main entrance was reconfigured to create a grand entryway that more effectively balances the flow of congregants