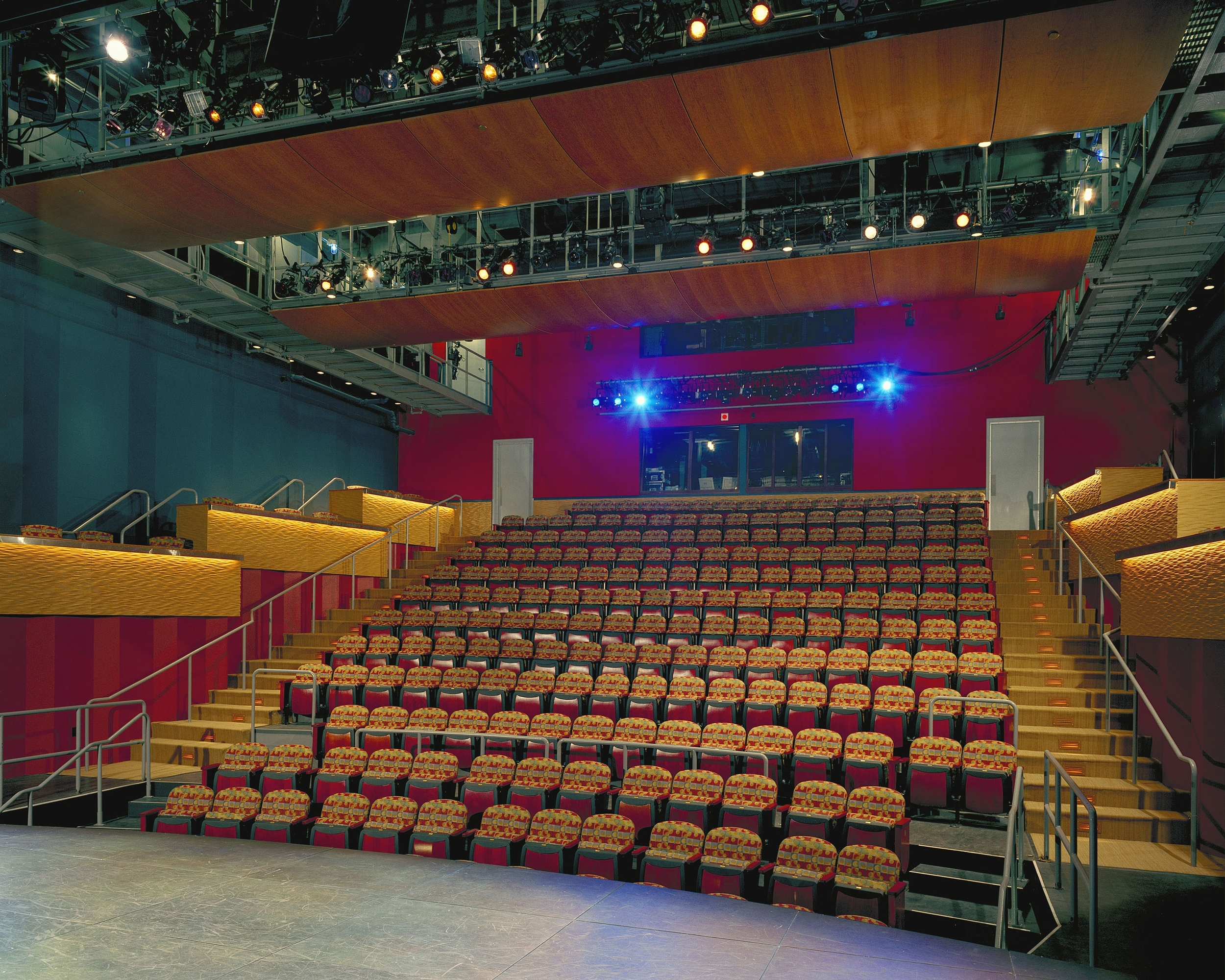 PROJECT: Georgetown University, Royden B. Davis Performing Arts Center
LOCATION: Washington DC
CLIENT: Georgetown University
COMPLETION: 2005
SIZE: 56,000 Square Feet
COST: $15 Million
The Royden B. Davis, S.J., Performing Arts Center is the first building devoted to the performing arts at Georgetown. The Performing Arts Center combines two buildings; the 16,000 square foot existing Beaux-Arts Ryan Building and a new 40,000 square foot addition. The Center commands a hillside site overlooking a Jesuit cemetery. Named after Father Royden B. Davis, S.J., a past dean of the College, the Davis Center contains two halls: the 250-seat Gonda Theater and the 100-seat Devine Studio Theater, as well as scene and costume shops, rehearsal rooms, and offices.
The intimate Gonda Theatre is the building's heart, finished in warm wood tones with dark blue and red side walls and vibrant patterned seating fabric. The Gonda Theater's proscenium is the first on campus, permitting of a range of dramatic productions and providing a flexible environment for scenic design. The scene and costume shops and rehearsal rooms function as non-traditional classrooms, sized to allow faculty and students to gather, collaborate, and experiment.
The existing Ryan building, built originally as a gymnasium, is now the Center's main lobby and the theater entrance. This interweaving of new and old construction permitted the smallest possible footprint on the site, simplifying the theater's placement between buildings and along roadways. A saw-tooth corridor connects the lobby to the Devine Studio theatre, a fully flexible black-box theater, one level below. The translucent oval that announces the theater's presence inside the lobby is visible at night from the main campus entrance.
Georgetown's students of design and technical theater have flourished, able to learn in a facility that supplies well-outfitted shops, flexible performance spaces, and space for experimentation.