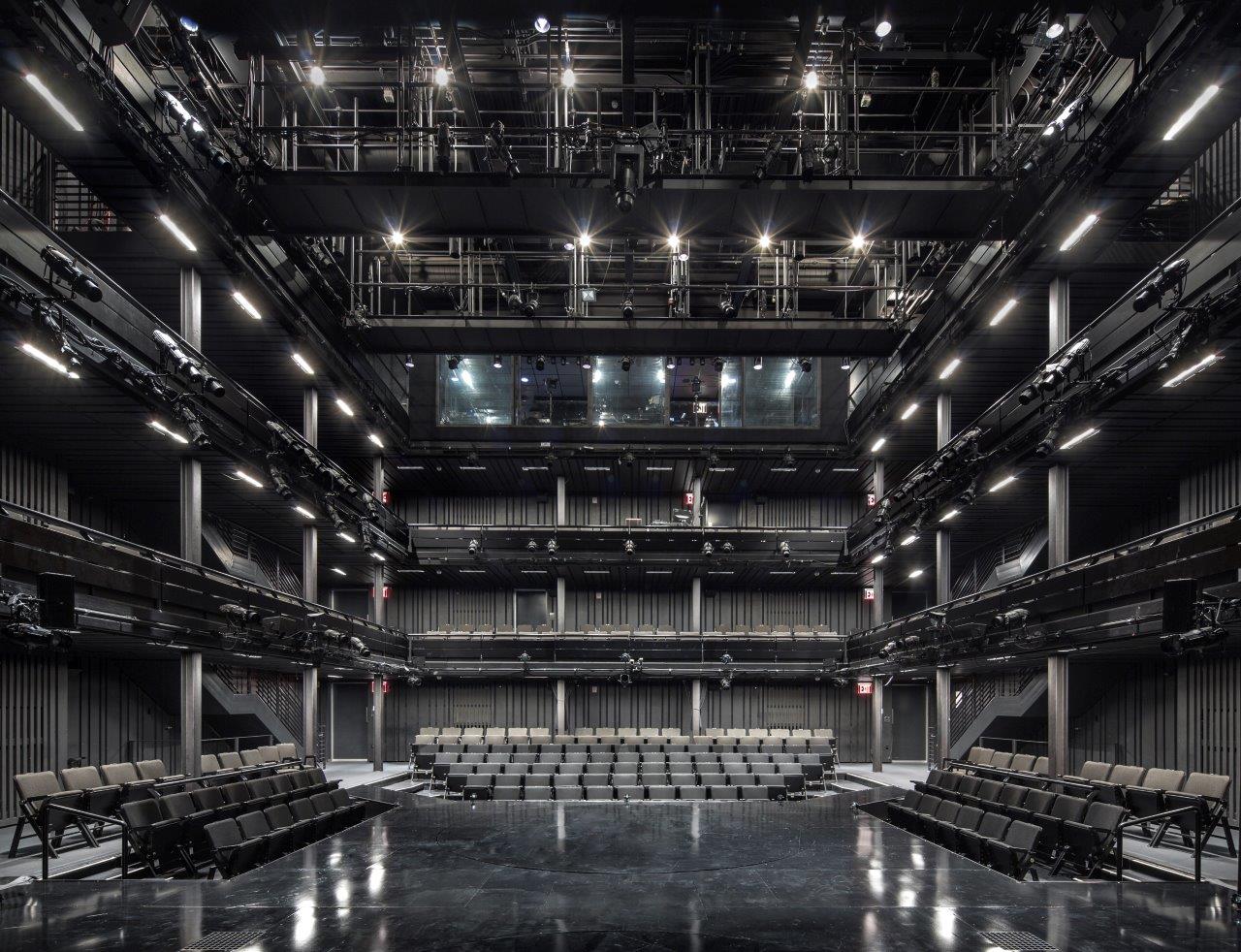 PROJECT: Theatre for a New Audience, Polonsky Shakespeare Center
LOCATION: Brooklyn, New York
COMPLETION: 2013
SIZE: 27,500 Square Feet
COST: $25 Million
H3's design for the new Theatre for a New Audience building in the Brooklyn Academy of Music (BAM) Cultural District reflects the new building's function as a laboratory for modern theatrical interpretation of classical plays. The simple form of the building belies its structural complexity and intricate acoustical isolation from the city's exterior and subterranean noise. Cloaked in large gunmetal gray metal panels, the exterior skin appears as a seamless opaque surface in contrast to the front façade's glass curtainwall suspended from above. The volume of the building projects outward from its site, with the second floor lobby dramatically cantilevering over the main entrance below.
Visitors enter on the ground floor, following the materials and curving shapes of the exterior plaza into the interior of the building. After proceeding up a central stair, they enter a tall, bright lobby with wide views out to the neighborhood and become part of the performance to those on the street below before entering the theater from the second floor.
The intimate darkness of the 299-seat proscenium theater sets a stark contrast to the soaring, naturally lit lobby. The finishes and furniture in the theater are all black, with no visual distraction from the activity on stage. Theater seating on three levels—the orchestra and two low balconies—brings the audience close to the performers and is reconfigurable for changing performances.
The project is anticipating a high LEED-NC Silver rating from the United States Green Building Council. One of the key aspects in which it excels in the incorporation of industry-leading, energy-efficient LED lighting throughout, rare in a building of its type.
Like a Theatre for a New Audience production, the new building brings a powerful, yet nuanced new presence to the BAM Cultural District.